Homesteading is a lifestyle of self-sufficiency. It is characterized by subsistence agriculture, home preservation of food, and may also involve the small scale production of textiles, clothing, and craft work for household use or sale. Pursued in different ways around the world—and in different historical eras—homesteading is generally differentiated from rural village or commune living by isolation (either socially or physically) of the homestead. Use of the term in the United States dates back to the Homestead Act (1862) and before. ~Wikipedia
---
As modern life becomes busier, noisier, and more complex, it's no surprise interest in homesteading perseveres. Rural living calms the nerves and soothes the senses.
Many of us are realizing we'd like to slow down and enjoy life rather than scramble through it at breakneck speed.
But how do you even make a start when all you've known is urban or suburban living?
That was our quandary. My wife and I knew we wanted to live a quieter, simpler, less expensive, and more self-sufficient life, but we didn't know where to start. It has taken a few years and a few too many missteps for us to find our way.
I started Homesteading How To to share our story so that others with similar dreams could make a smoother transition to simpler living than we experienced.
Over time, however, this website has expanded to become more than just a personal blog. It now encompasses a variety of topics and resources to support not only homesteaders but anyone interested in downsizing and simplifying their life.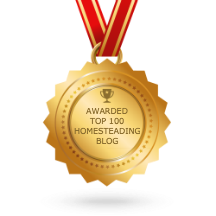 Today, Homesteading How To
If you dream of a simpler life, Homesteading How To can help.
Whether your homestead dream is brand new or well underway, we want to support and encourage that dream. So have a look around, and reach out to us if you have any questions, comments, or topics you'd like to see covered at Homestead How To.
***
Special Thanks To Our Sponsor:
***
Our Eco-Friendly Affiliates
( Read our full Affiliate Disclosure )
***
Every Sale Plants A Tree
Enter Homestead10 at checkout at TreeTribe for 10% off your purchase.
***
Enter Homestead10 at checkout at WOWE for 5% off your purchase and free shipping.
***
---